Ibogaine is a powerful psychedelic alkaloid found in the root bark of the Thabernante iboga shrub, native to Africa, mainly in the Congo and Gabon area (Figure 1A). This root is traditionally used for spiritual purposes in the local culture called Bwiti. While small doses are consumed as a stimulant, high doses are used in spiritual rituals that usually last up to five days for men and a few weeks for women. Musicians, children and other members of the community participate in the ritual to support the initiate, or men and women in their healing process (Figure 1B).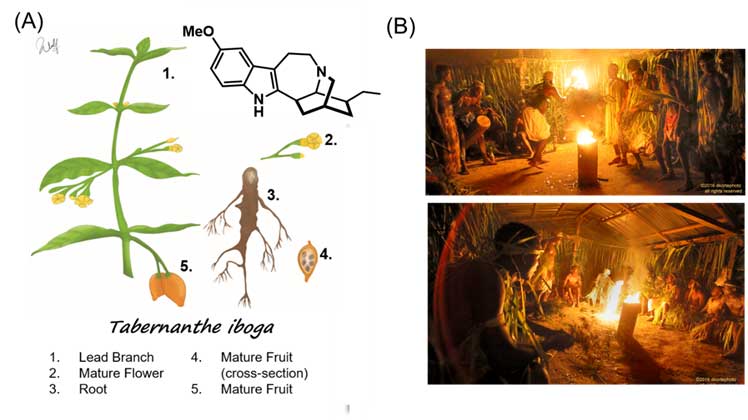 (A) Illustration of the different parts of the Thabernanthe iboga bush (Illustration from Kevin Wulf ACS Chemical Neuroscience 2020, 11, 1661-1672) and chemical structure of ibogaine (B) Bwiti initiation rituals. Images taken from http://dkortephoto.com/wordpress/bwiti-ceremony/
Ibogaine has been classified as an atypical psychedelic, whose subjective effect is characterized by entering a state with strong dream content while awake, without producing the typical thought interference, identity distortion and time-space alterations produced by classic hallucinogens. For this reason it has also been characterized as an oneirogenic psychedelic.
In the western world, ibogaine has attracted the interest of the scientific community thanks to its anti-addictive properties evidenced in anecdotal and observational studies in humans, and in preclinical studies using animal models. Despite its interesting profile for the treatment of disorders associated with substance abuse, to date no clinical studies have been completed using ibogaine as a drug for the treatment of addictions. One of the factors that have delayed these studies is their collateral effect on cardiac physiology. By inhibiting hERG potassium channels, ibogaine causes an increase in the repolarization time of the heart muscle (evidenced by an increase in the QTc interval on the electrocardiogram) which can lead to the appearance of ventricular arrhythmias, which in some cases can be fatal . This requires strict exclusion criteria, and permanent cardiac monitoring for individuals who ingest high doses of ibogaine for antaddiction purposes.
The psychedelic effects of ibogaine prompted its categorization into Schedule 1 of controlled substances in the United States, despite the vast amount of existing scientific evidence of its therapeutic potential. The lack of scientific research channels, and / or regulated use, has promoted its use as an alternative therapy for addictions many times in inadequate settings, without medical or psychotherapeutic support and without controls on the purity and dose of the material used, which has increased the number of fatalities associated with ibogaine.
Our research group is interested in the preparation of substances structurally related to ibogaine, which are capable of retaining its anti-addictive properties, but without presenting its dangerous effects on cardiac physiology. To do this, we carry out interdisciplinary research efforts in two main lines:
a) Ibogaine Mechanism of Action. Knowing the key drug targets of ibogaine is crucial to enable the development of safer structural analogs. However, the mechanism of action by which it exerts its anti-addictive effects is still unknown. In Uruguay, researchers from different laboratories (Figure 2) belonging to the Faculty of Chemistry, Faculty of Medicine, the Clemente Stable Biological Research Institute and the Uruguayan Center for Molecular Imaging, carry out various investigations to contribute to the understanding of its mechanism of action.
b) Development of structural analogues to ibogaine with a higher safety profile: In the Department of Organic Chemistry of the Faculty of Chemistry, we are carrying out a medicinal chemistry project based on the construction of a library of ibogaine analogs using synthesis methodologies total and semisynthesis. Through the application of medicinal chemistry cycles, we hope to detect compounds capable of promoting GDNF expression and / or selectively inhibiting the serotonin transporter SERT, to have compounds with an antaddiction and / or antidepressant profile, respectively. To evaluate the affinity of these on hERG potassium channels, a screening methodology will be established through collaboration with the Pharmacology Laboratory – CIENFAR (Dra Inés Carrera). We hope in this way to discover novel alkaloids of the iboga type, with antiadictive and / or antidepressant potential and a greater clinical safety profile.